General theory
Pareto efficiency
Assume we have 2 individuals and 2 goods and 1 individual has now all goods. So initially he is on a normal indifference curve without trade.
They all want to get on to the highest possible ind. curve. By trade they can get to higher indifference curve:
<![if !vml]>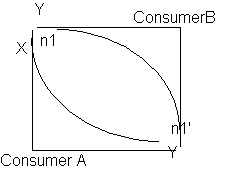 <![endif]>
Originally at n1 (original endowement),
They trade to somewhere between. Point A on a smaller lens is more efficient, but don't maximise welfare.
Pareto optimality - it is impossibel to improve the welfare of one individual without damagin the welfare of the other.
Poiints of tangency between indifference curves is the contract curve.
-dy/dx=(
MRSy,x)1=(MRSy,x)2
Both indidualsuse their ibine )iniyial endowment.
When straight line utility, the only 1 is produced.
Fixed ratios of production(kinked ind.), then you don't care about the relative prices. In the long-run kink disappears.
<![if !supportEmptyParas]> <![endif]>